Satech Products
SATECH management of the entire production means a total control of the workflow, ensuring a flawless product quality. The huge range of products in stock and the integrated logistics allow the company to promptly satisfy any kind of request.
All Satech products are compliant to European Standards (EN ISO Standard 14120 "General requirements for the design and manufacture of fixed and movable guards").

Colours
Panels and uprights are finished using proven, hard-wearing epoxy polyester powder paints, available in standard colours RAL 9005, 1021 and 7035.
SATECH guarding can also be produced in special colours to meet individual customer requirements.
Request a quote by filling out the form.
The fields marked with * are mandatory.
BodyGuard System
Fall Prevention System Series - BodyGuard
Prevents personnel falling from galleries or elevated areas. This modular system is compact and can be completely disassembled, providing speed of assembly and greater flexibility in use. It is manufactured in compliance with the relevant ISO international standards.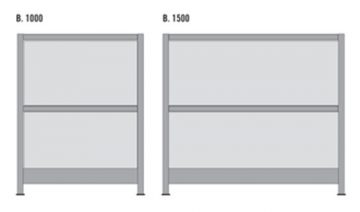 SPECIFICATIONS
Structure: 2 horizontal beams and a kick plate
Tubes: 40 x 40 x 2 mm
Assembling brackets: self-centering and self-locking
Painting: Epoxy polyester powder (indoor use)
FLOOR ANCHORING
Bases:
1000 linear, 1000 angular
1500 linear, 1500 angular
FRONT ANCHORING
Bases:
1000 linear, 1000 angular
1500 linear, 1500 angular