Satech Products
SATECH management of the entire production means a total control of the workflow, ensuring a flawless product quality. The huge range of products in stock and the integrated logistics allow the company to promptly satisfy any kind of request.
All Satech products are compliant to European Standards (EN ISO Standard 14120 "General requirements for the design and manufacture of fixed and movable guards").

Colours
Panels and uprights are finished using proven, hard-wearing epoxy polyester powder paints, available in standard colours RAL 9005, 1021 and 7035.
SATECH guarding can also be produced in special colours to meet individual customer requirements.
Request a quote by filling out the form.
The fields marked with * are mandatory.
Basic System
Perimeter Protection Series - BASIC
Protection and accident prevention system consisting of 40×40 uprights and 20×20 panels with 20×20 frames, connected by screws or SATECH patented fast assembly clamps. It is the standard method used in all guards for plant and machinery.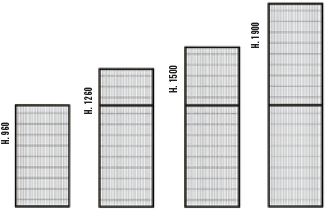 SPECIFICATIONS
Panels Frame: 20 x 20
Mesh: 22 x 100 x 3
Painting: Epoxy polyester powder (indoor use)
DIMENSIONS
Bases:
200, 300, 700, 800, 1000, 1200, 1500
Heights:
960, 1260, 1500, 1900
SPECIFICATIONS
Posts: 40 x 40 x 2
Baseplate: Forged with 3/4 anchor points
Painting: Epoxy polyester powder (indoor use)
DIMENSIONS
Posts with screws (adjustables):
1120, 1420, 1660, 2060, 2640
Posts with fast assembly clamps (adjustables):
1120, 1420, 1660, 2060, 2640