Satech Products
SATECH management of the entire production means a total control of the workflow, ensuring a flawless product quality. The huge range of products in stock and the integrated logistics allow the company to promptly satisfy any kind of request.
All Satech products are compliant to European Standards (EN ISO Standard 14120 "General requirements for the design and manufacture of fixed and movable guards").

Colours
Panels and uprights are finished using proven, hard-wearing epoxy polyester powder paints, available in standard colours RAL 9005, 1021 and 7035.
SATECH guarding can also be produced in special colours to meet individual customer requirements.
Request a quote by filling out the form.
The fields marked with * are mandatory.
AdaptaGuard
Frameless Machine Guards
Maximum simpicity and productivity.
AdaptaGuard frameless modular guarding system perfectly combines practicality and robustness and is an ideal solution where there is a high risk of mechanical impact.
The frameless 4 mm steel wire panel is stengthened by transversal folds and it is connected to 50 x 50 mm uprights by strong retaining fasteners. The high thickness heavy baseplate stabilizes the post during assembly.
AdaptaGuard is quick to assemble: a single type of post for linear, angular and door mounting reduces setup time, the wide ribs facilitate the use of the electric screwdriver, while the frameless construction allows panel sizes to be adjusted speedily on site.
SPECIFICATIONS
Panels:
Shaped mesh
Mesg:
32 x 68 x 4 mm
Painting:
Epoxy-polyester powder (for internal use only)
DIMENSIONS
Bases:
196, 292, 676, 772, 996, 1188, 1476, 1988 mm
Heights:
2080, 2490 mm
SPECIFICATIONS
Sections:
50 x 50 x 1,5 mm
Baseplate:
saldata con 4 punti di ancoraggio 120 x 120 x 8 mm
Painting:
Epoxy-polyester powder (for internal use only)
DIMENSIONS
Heights:
2240, 2650 mm
OVERALL PROTECTION HEIGHT:
2220, 2630 mm
Saefty EN ISO 13857
A 28 x 64 mm slot opening allows the installation of the fence 200 mm from the danger zone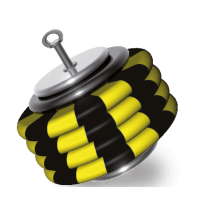 AdaptaGuard has passed the severe dynamic resistance tests according to the procedure contained in EN ISO 14120 Standard (Hard body / Pendulum Test) up to 1600J

ROBUST
Greater stability is achieved by connecting the panels to the uprights at the position of the reinforcement ribs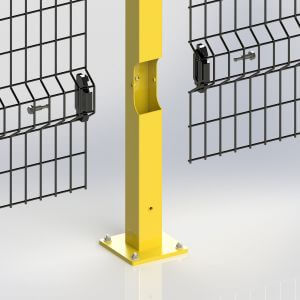 PRACTICAL
High-strength nylon-fibreglass fasteners are ergonomically shaped to facilitate quick and easy assembly of the system. The assembly system features a captive bolt fastener according to EN 953 + A1 ISO 14120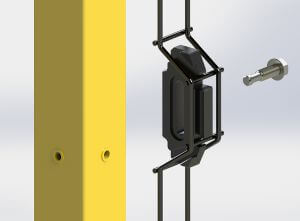 ADAPTABLE
Frameless panel design gives AdaptaGuard the flexibility to meet the requirements of all applications